Bassnectar makes his 'Return to the Mothership' this weekend with BassCenter X
For its tenth anniversary, Lorin Ashton is bringing his iconic BassCenter gathering to Virginia's Hampton Colosseum for a specially curated three-night run. Recently, Bassnectar spoke to fans in an hour-long Reddit AMA and revealed some insider details into the event.
He's deemed the occasion as "the Return to the Mothership," which harpoons back to nostalgia of Bassnectar/Pretty Lights co-headlining show, BassLights, from 2012-15. Since the show's cancellation, fans have since been making some noise about their demigod's return to the sacred Hampton venue. Ashton certainly answered the call.
"Essentially Hampton Coliseum really wanted me to come back, and it seemed like a great opportunity," says Lorin, "also I wanted to try something a bit more intimate and left field in Colorado."
Last year, Ashton drew over 25,000 attendees to Commerce City, Colorado for a massive two-day camping event. "Having pulled off the biggest show of my career," said Ashton, "I wasn't thinking 'yes! bigger is better! now I gotta come back and play to a hundred thousand people!!' AHHH… i dont want to take over the world."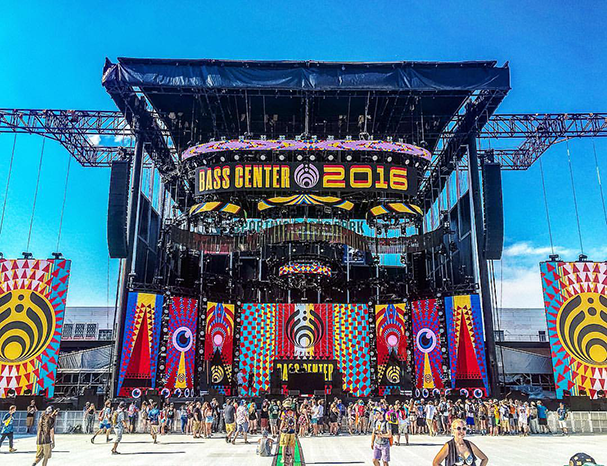 Photo courtesy of Brown Note Productions.
"Bass Center is without a doubt the creative pinnacle of the year for my entire team!"
Of course, it wasn't always that way, but, as Lorin explains to his fans, "after last year, it really became a chance for me to take the deepest dive possible into 'bassnectar' and reinvent it live while ripping into the past and flinging it into the future. its like the quintessential 'ok i am involved in every tiny aspect of this event' so i just obsess over it."
Anyone who has witnessed the mass spectacle that is the Bassnectar experience knows that there is bound to be mistakes made in any three-hour-long impromptu event, for which Ashton handles like a complete veteran. But fans also know they can expect to see massive spectacles, such as faux-snow or beautiful rose petals falling from the ceiling, instead of the usual EDM confetti. No wonder, then, that Ashton becomes so obsessive about every minute detail.
Ashton describes his process in planning out the weekend as "OBSESSIVE. COM. PULSIVE." He jokes that, in the BassCenter lead-up, he's "basically just [been] terrorizing [his] team for a year about this event. and ironically, lots goes right, lots goes 'wrong' and lots of stuff which goes not as planned ends up better than planned…"
And that is exactly what one can expect to happen at a Bassnectar show. Expect the unexpected. Or, as the bass music demigod puts it to his cult-like fan base so regularly, "don't expect anything, just come join us and dive in deep."
What makes Bassnectar events so special isn't only the cutting edge technology or the physical, visceral, emotional rollercoaster of sound. It's the psychedelic, communal experience in which the Bassnectar fanbase brings to the show. As many devout followers of Bassnectar would say, it's not a fanbase so much as a family base. At every turn, you'll see random acts of kindness, like homemade gift exchanges, pop-up art installations, and live performers wandering through the crowds.
Photo courtesy of Westword.
Leading up to the event, Bassnectar noted in his AMA that he worked "nonstop hours with the lighting team, designing how to approach the room into the exact visual experience we want." Of course, in addition to the stunning visual display, the music will make unexpected twists and turns that Ashton has cooked up in his mind, and, yet, that he isn't exactly even sure he is taking.
Lorin elaborates, "[F]or Bass Center, across three nights, I will conjure up 3 totally distinct sets which feel like the full throttle tour sets, which a totally unique and independent of each other, with all my favorite music, remixed into new versions, going NUTSO on the request line, and basically taking every request that comes in…with a twist"
"In terms of the music…for anyone who is like 'why dont you tour anymore' …those three nights are like fucking tour."
Photo courtesy of aLive Coverage.
Outside of Bassnectar's own performance, there are a number of enticing features that attendees can expect to see at this year at BassCenter X.
The area called "The Haven," which was debuted at last year's BassCenter event, was designed as a safe space for fans to come to when they were facing sensory overload (a common thing to happen at nectr events). The Haven is home to massages, a gift alter, green tea, and interactive projects.
Also announced is the unveiling "The Lot" in Hampton. This is an enhanced gathering space outside the venue with renegade sound systems, pop-up arts & crafts fair, and guest performances.
"We are working on every tiny element," Lorin continues, "making the outside 'line' area blend into a larger kind of event carnival, maybe kind of like a Grateful Dead lot of the 1990's meets an ICP show, meets a free outdoor day party in Golden Gate Park."
Fans can also experience the show from any angle since the entire event is a "free roam" type of environment. Ashton says about the venue, "the floor is so massive, and we are making the stands wrap around so you can spend the whole night running in circles if you wish."
Bassnectar will be playing extended sets each night alongside a diverse cast of musical talent, including Cashmere Cat, Dan Deacon, Mr. Carmack, CloZee, Tsuruda, Bleep Bloop, Shlump, Son of Kick, and CharlesTheFirst. Suffice it to say, the tenth iteration of the event is poised to be one of Ashton's best yet.
BassCenter X is will transpire for three days this weekend, September 1-3, 2017. Limited tickets are still on sale.
All quotes from Lorin Ashton in this piece are from his Reddit AMA earlier this year.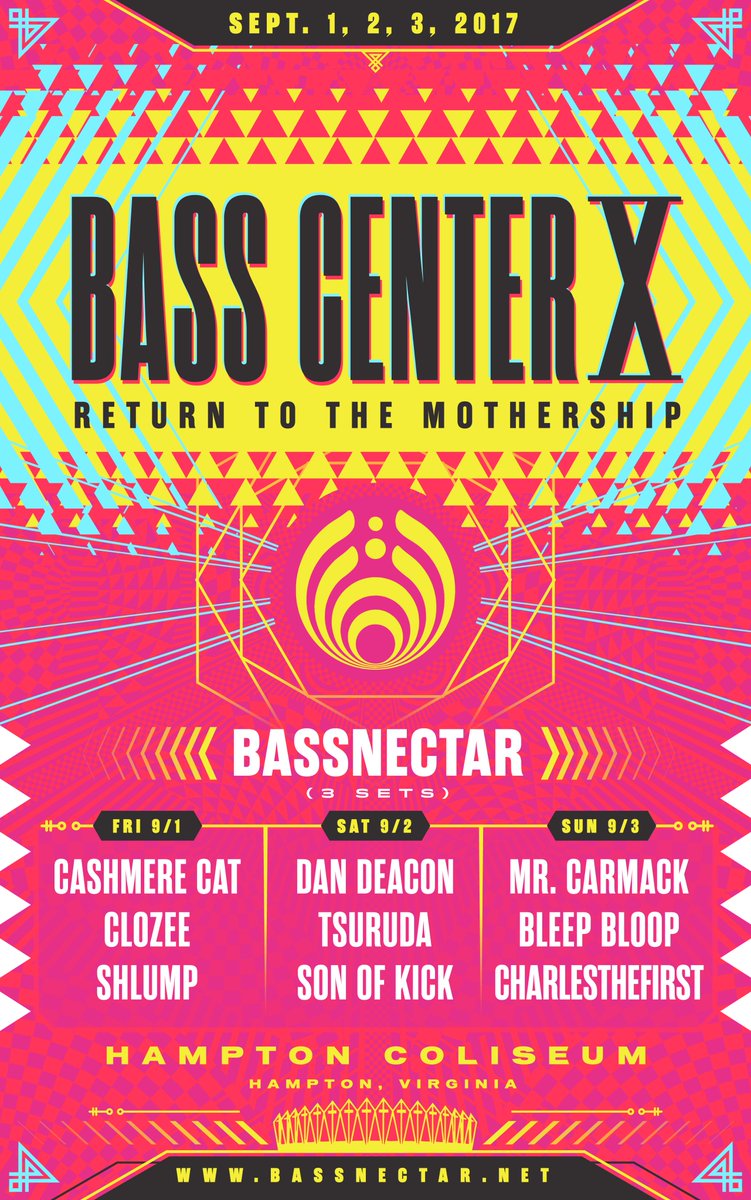 Read More:
Bassnectar's 'Reflective' EP is viscerally heavy and profoundly complex [EP Review]
String Cheese, Bassnectar, GRiZ top 2017 Suwannee Hulaween line-up
Electric Forest attendee grills full steak dinner during Bassnectar set