Datsik evolves with meticulous masterpiece, 'Master of Shadows' [Interview + EP Review]
How does an artist become an icon?
Musicians and managers often overlook this question in their quest for career prosperity. It speaks to art at the intersection of style and substance, more than it does to commercial fame. Datsik certainly understands the power of iconography. Recently dubbed by critics as "ninja warrior," Troy Beetles has harnessed the visual power of the Asian samurai. Look no further than his Ninja Nation tour, which rolled out last winter and sold out nearly every major US city. 
"It's tough sometimes to make the shit that you just want to listen to on headphones when you tour so much," Datik told DA recently in a conversation. "Being out here and seeing what works on a dance floor can sometimes be detrimental to creativity. I guess at the end I'm just trying to find a balance." The 29-year-old producer further noted that he's outgrown the phase of his career where he feels the need impress people, and that his inspiration comes from human connection: "Honestly, it's the people and my friends and being able to share music with people. I'm inspired by the love I am shown from my listeners." 
"I've been into this [ninja] stuff since I was a kid."
The Canadian producer, now based in Los Angeles, has been at the forefront of heavy, head-banging dubstep from the start of his career. Since the release of his debut EP Nuke 'Em in 2009, Datsik has been open about how his particular style of bass has been inspired by Bassnectar and Excision. 
 "Both of them [Lorin and Jeff] are legends, and its been such an honor to not only work with them but to call them friends for life. The grind is so real out here and to have mentors you can share the experience with is invaluable. Very stoked to see the progression of underground music and where its gone."
Yet, he remains humble to the fact that he himself has ignited a burgeoning dubstep movement across North America that has landed him on the major festival billings of Ultra, Coachella, EDC Las Vegas, and Shambhala. January 2018 marks the seminal moment that Datsik emerges as a leading tastemaker in bass music, as he releases his tenth studio EP: Master of Shadows. 
The seven-track project, out on his label Firepower Records, comes as the potentially the biggest milestone of Troy Beetle's career, reaching No. 1 on the iTunes Dance charts within hours of its release. Along with it, the deadly assassin is taking on January armed with an enormous 60-date Ninja Nation Tour. 
"The fact it [the EP] debuted at number one made me realize how fortunate I am to have the supporters that I do."
---
Master of Shadows is filled with collaborations, which speaks to Datsik's ascendancy as a real influencer of his genre. Not only does it enlist some of bass music's most innovative names, from JPhelpz, Dion Timmer, Virtual Riot, Excision, and Ganja White Night, the quality of its sound design places Datsik well within the company of the very pioneers who inspired his early musical directionality. 
Whereas his previous albums helped lay the groundwork for dubstep's biggest expansion since its early emergence in 1990s London, Master of Shadows marks a pronounced stylistic shift in Datsik's lethal arsenal of bass. On the one hand, the project fully delivers on every sonic element that Datsik has been dialing into over the years. One the other, what he serves up here is something fresh, inimitable, and entirely different. 
"I try my best to keep a vibe that people like me for. I also want to explore different avenues, and I feel like every EP is a new venture to figure out how to meld the old with the new."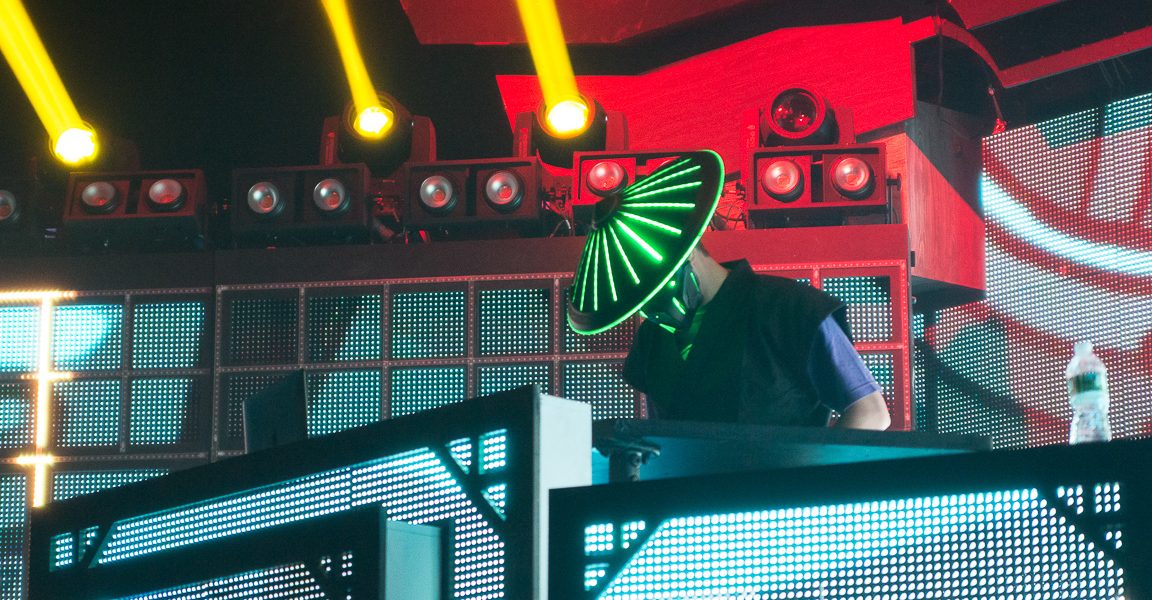 Datsik on his Ninja Nation tour stop in Philadelphia. Photo courtesy of DMNDR.
---
Throughout Master of Shadows, Datsik achieves his vision, in part by channeling his passion for creative expression and the pursuit of his dream of making music. "I am happy to be in a position to do what I love for a living and be able to express and share the vibe with everyone at these shows. There's nothing else I'd rather be doing," he says. Thematically, Beetle's work pinpoints the nexus between his evolved style and an artistic commitment to where he's been. 
The EP's leading track, "Pressure Plates," paints a cinematic picture, encompassing listeners into a fully immersive experience. The track begins with orchestral layers that, interestingly, call on the electronic stylings of a budding deadmau5 ballad. Datsik is a master of building suspense, as anticipations run high all the way up to the two-minute mark. This is where the payoff happens for those yearning for Datsik's signature style — the deadly assassin delivers his fatal drop, followed by sparse, syncopated percussive patterns and heavy bass lines. 
There is an intentional construction to Master of Shadows that demonstrates Datsik's leap from ordinary dubstep producer to bass music icon. Along with the colossal instrumentals he imbues in two of the EP's tracks with Virtual Riot, including the previously-released "Warriors of the Night," Datsik has so too proven himself a master of collaboration. In "Freakquency," listeners are left hanging onto every added sonic element in this carefully constructed track. After a gradual lead in, the senses are quickly bombarded with staccato guitar riffs, jarring synth work, low-frequency subwoofer bass, and masterful breaks. At the song's close, the silence is — quite literally — deafening. 
Datsik also pays homage to his past style in two unrelenting cuts: one ironically named "You've Changed," and the other titled "Find Me," which is sure to become an anthem. The latter is a stand out single for its clear influences from Dion Timmer and Excision. While Timmer's impact is heard immediately at the track's opening — in his sentient vocals and the unrelenting swells of the electric guitar — Excision's ruthless touch arrives at the song's behemoth first drop, oscillating between melodic breaks and frenzied rampage. 
When prompted to tell the story of Master of Shadows in his own words, Beetles stated, "I actually wrote this entire EP in three weeks, and my hard drive crashed mid way. It has been the single hardest thing I've ever done. I'm so happy with how it all came together and worked out."
"To anyone listening to the EP, I love and appreciate you, and can't wait to see you on the Ninja Nation tour."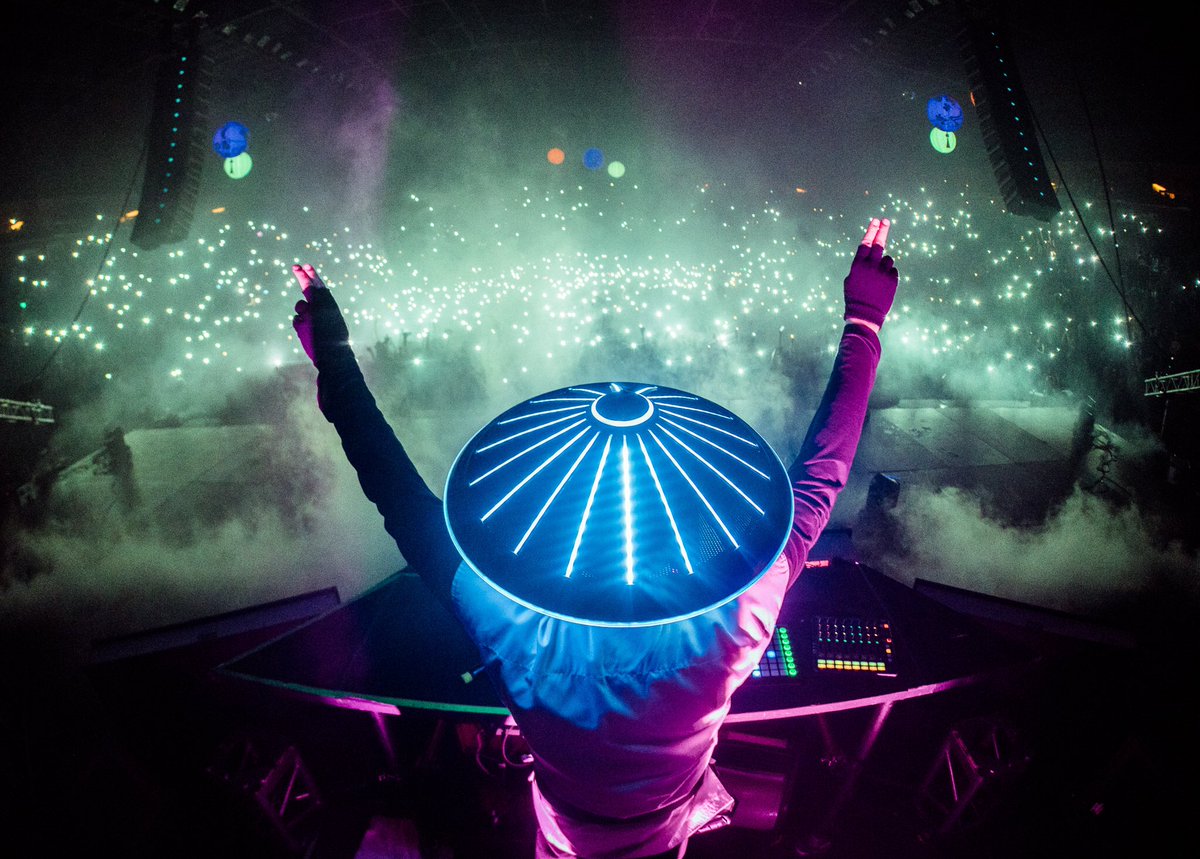 There's no denying Datsik has been developing his highly stylized Asian directive since his 2014 EP, Down 4 My Ninjas. Neither can one deny that this shadowy mercenary aesthetic fits perfectly into the rough and rugged genre of dubstep. Yet, despite the problematics of a Canadian contemporary appropriating feudal Japanese cultural figures for profit, Datsik has been able to capitalize on his Ninja-branded sound stamp to much success. This precise move is because he has seamlessly fused this ninja imagery into the very substance of his sound design. More than that, he infused the ninja image into his very on-stage identity — from his massive Shogun stage production to his LED conicol hat and karate uniform — all at the level of style. Datsik has branded himself a "warrior of the night." 
Check dates for Datsik's Ninja Nation 2018 tour, featuring support from Space Jesus, RIOT TEN, Wooli, Carbin, and Swage.